Sleep by Number Bed
Is a Select Comfort Sleep Number Bed Right for You?
The Sleep by Number bed is the only adjustable air bed on the market that has Sleep Number technology. For some people, this technology can mean the difference between sleeping just ok and sleeping soundly.
How does the adjustable Sleep Number bed work? Think of the mattress comfort dial as your own personalized mattress setting.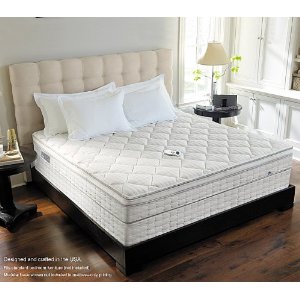 By moving the setting up from zero or down from 100 or anywhere in between, you decide how firm or soft your side of the bed will be so that you can sleep comfortably. That number equals your best night of sleep!
The nice thing about the Sleep Number technology is that you can change it any time you like. Let's say for example you have been working in the yard all day long and feel really achy and sore.
You simply have to dial your number up or down until you achieve the most comfortable level of support and firmness that makes your body feel like it can rest. It's up to you every night - leave the number at the same setting or change it!
Comfort Choices with Sleep by Number Beds
Select Comfort offers three different series of airbeds from which to choose. Each has something different to offer depending on your preference for mattress thickness, top layers, and price range.

Classic Series
The Classic Series is a take off of the traditional style mattress in airbed style.
Sleep Number c2 - the c2 style features an adjustable mattress covered with a knit fabric that breathes. The most affordable of the Sleep Number beds, you can adjust your number as high or as low as you want to achieve a firm or soft mattress.


Sleep Number c3 - identical to the c2, but has an added layer to make your mattress feel softer and plusher. This bed also comes with a remote control so you can adjust your side of the bed without disturbing your spouse.


Sleep Number c4 - the airbed mattress covered with a material that feels like it's cradling your body with support. Comes with a hand-held remote.
Performance Series
The Performance Series offers more comfort features than the Classic Series, but still features the handheld remote for dialing your own Sleep Number.
Sleep Number p5 - best selling bed, perhaps because it's our unique design of airbed covered first with a soft comfort layer followed by our choice of knit fabric that allows your skin to breathe.


Sleep Number p6 - you're going to love this airbed featuring a pillow top layer that is covered with a high quality cover made from a blended cashmere fabric.


Sleep Number p7 - 10 inches of supportive memory foam over our airbed design, you get to enjoy both the benefit of an adjustable airbed and the comfort of memory foam.
Innovation Series
The Innovation Series is the ultimate in plush, luxurious airbed mattresses.
Sleep Number i8 - 12 inches of plush layers over the air chambers plus another 3 inches of our Select Comfort's Intralux supportive and comfortable layer of material over that, creates a pillow top effect, remote can return to original sleep number with one touch.


Sleep Number i10 - this bed offers 15 inches of luxurious pillow top comfort and firmness while still providing all the benefits of an adjustable air mattress. Dual remotes - one for each of you.
The most attractive aspect of the adjustable Sleep by Number airbed is that couples can each have their choice of firmness on their side of the bed. It's especially ideal for those couples that have drastically different preferences when it comes to a firm or soft mattress.
Individuals love the Sleep by Number bed too because they have the ability to have a brand new mattress every night if they like by adjusting the dial to make the mattress firmer or softer.
Benefits of a Sleep by Number Select Comfort Airbed
Unique Sleep Number Technology


Couples can adjust their side of bed independently of other with hand-held remote


Cushioned support that allows for proper spinal alignment


Research indicates test subjects fell asleep more quickly and arose more refreshed in the morning sleeping on a Select Comfort bed


No more painful pressure points to contend with


Cradles your body in comfort


Provides relief from back pain
Drawbacks of a Sleep by Number Select Comfort Airbed
The pump can be noisy enough to wake you or your spouse when adjusting


Potential mold issues if not maintained properly


Maintenance issues are pretty regular - cost of replacement parts can make this bed cost prohibitive for some people


Two very different settings can cause a trench to develop in the middle of the bed between the air chambers
Other Airbed Brands
Airbeds Unlimited is another brand name of adjustable airbed that seems to have good customer reviews. They even have a comparison of their beds to Select Comfort beds.
Comfortaire has several styles of adjustable airbeds, but when you look at the reviews side by side, Comfortaire doesn't fare as well as the Select Comfort beds.
Simply Rest, Golden Rest, and Nuvo Evo are three other airbed manufacturers. There weren't enough customer reviews to properly compare them with Select Comfort airbeds.
Air Beds and Mold - Caring for Your Air Bed
Prior to 2005, there were some instances of air beds devleoping mold between the air chambers, underneath the top layers of the mattress. Sleep by Number beds are now treated with an antimicrobial substance that inhibits mold growth. It's still possible for mold to grow inside an air bed, but it's not as likely as it was before 2005. Taking the following steps to care for your air bed are especially important for those who suffer from allergies.
You can care for your air bed properly by doing the following:
Use a dehumidifer in your bedroom to reduce the moisture level
Use allergen covers on your mattress
Vacuum the bed and bedroom frequently
Place your air bed away from the vent so that condensation can't form on the bed
Allow the bed to air out a bit each morning before making the bed up - this allows body moisture to dissipate