Latex Mattress Reviews
What is the Best Latex Mattress?
Latex mattress reviews are not easily found simply because this type of mattress has just recently begun to gain interest and acceptance as a viable mattress option.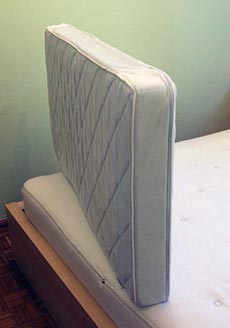 There are however some reviews and comments available on latex mattresses that rated highly with consumers and also comments on latex mattresses that rated poorly.
We've put together the top five most popular latex mattresses, some additional "honorable mentions", along with the top three most poorly rated brands in 2011 and 2012.
The mattress brands listed here are not the only ones available on the market, but may give you a good starting point for your own research into latex mattress reviews.
Please be aware that mattress reviews are simply people's experience of a mattress, and that no brand will have all positive reviews. Your experience of comfort on a mattress is a unique, individual preference!


Where to Start?
It's important to know and understand the pros and cons of latex mattresses in general before moving forward with brand names.

Benefits of Latex Mattresses
Excellent isolation motion - your spouse won't feel your movements when you toss and turn


Fantastic support and spinal alignment - especially wonderful for people who experience chronic back and joint pain


Silent when moving about


Firmness can be adjusted by varying layers


Responds to warm or cold temperatures - conforms to the body in both extremes


Promotes increased circulation


Natural latex is resistant to bacteria, allergens, and dust mites


Natural or organic latex is free from chemicals that may cause allergic reactions


20-year warranty on most brands
Drawbacks of Latex Mattresses
Price tag is cost prohibitive for some consumers


A natural latex or vanilla odor when first opened


Heavier than other types of mattresses - difficult to move around or flip


Develops a lumpy sleep surface if latex isn't high quality


Comfort and firmness can be difficult to find and maintain


Durability - consumers say that latex mattresses tend to sag prematurely


Flipping is often required to combat the sagging factor


Not suitable for some people with latex allergies
What Do Consumers Say? Latex Mattress Reviews by Brand
Under each mattress brand, we've included what people who purchased this type of mattress said about that particular brand. This is by no means a comprehensive list of latex mattress brands available on the market, so please continue to research on your own.
Even better, go to a mattress store to try one out for yourself, to discover which brand might be the best for you. Even major mattress retailers are now offering latex models so you will likely be able to find something to try.
Latex Mattress Reviews - Not All Latex is Natural
Please be aware that not all latex beds are made of natural latex. If you have allergies or health problems and are looking for a relatively chemical free sleep experience, you'll need to dig a little deeper to find brands that are natural or organic latex.
Many of the name brand latex beds from large mattress manufacturers such as the Sealy latex mattress are made with a blend of synthetic and natural latex, so do your due diligence when shopping to find out exactly what type of latex you are getting.
Generally, but not always, the lower priced latex beds are made of a blend of synthetic and natural latex.
Highly Rated Brands - Latex Mattress Reviews
E.C.O. Latex Mattress
People who purchased this brand are happy overall with this latex mattress. The lower price tag of $550 - $700 for a queen size is very competitive with other latex mattress brands.
It's important to note that the reason the price is so competitive is that the amount of natural Talalay latex actually used in this mattress is very little. Most of the mattress is foam.
Consumers say the mattress is firm, has no long-lasting odor and lessens pain following a night's sleep. The mattress does not appear to have a warranty or a return policy, and only comes in one firmness, so you need to be sure you are happy with it!
E.C.O. also makes a latex sofa bed sleeper mattress as well, a unique item that could be helpful for your overnight guests who have back problems or allergies.
Savvy Rest Latex Mattress Reviews
The Savvy Rest latex mattress is rated highly by consumers for several reasons. People like that they can customize the firmness of their mattress. Savvy Rest offers varying levels of firmness and comfort with different layers. They will gladly exchange any layer of their mattress until you're completely satisfied with your mattress comfort and firmness.
This natural latex mattress is enclosed inside a cover made from organic wool and cotton. You also have the choice between natural Talalay and natural Dunlop to help determine firmness and comfort.
Saavy Rest will send you a sample of their latex which is free from chemicals and is an excellent choice for people with chemical sensitivity or allergy problems. Their Dunlop latex samples have very little odor. The Talalay has more of a vanilla smell, which is added to all Talalay latex.
The price for a queen size is $1,800 - $3,400.
Original Mattress Factory Latex Mattress
They offer two choices of firmness - one layer is thicker than the other. The price range for a queen size is $1,000 - $1,399. People who bought this mattress said their back pain disappeared and hasn't returned since sleeping on this mattress. Consumers also reported excellent customer support and service.
The Original Mattress Factory latex mattress is about 40% natural latex and 60% synthetic, and is priced higher than most other synthetic latex blends we looked at.
They encourage their customers to purchase their matching box spring, saying that this will prolong the life of the mattress.
Sleep EZ Latex Mattress
The Sleep EZ Company offers a 90-day customer satisfaction warranty to make sure you are happy with the level of comfort of your bed. Their latex beds are a blend of synthetic and natural latex.
They allow you to switch out any of the three layers of the mattress so that you find the ultimate comfort level for you.
This brand of mattress comes in two different sides - his and her sides, so you can customize your side of the bed! Switching out the layers is free to you within the 90-day warranty. Consumers also report excellent customer service. Prices range from $500 for a twin latex mattress to over $3,000 for the top of the line.
Habitat Furnishings
This company makes a chemical free, all natural latex mattress and offers 6 inch, 8 inch or 9 inch thinckness, and an optional platform for your mattress.
They have a very informative and helpful website that answers any question you could ever think of about their product, and a very helpful customer service department.
These mattresses are well liked by people who purchased them, and the website displays the mattress reviews and ratings for their products right there you can read them.
Prices range from $1199 for the Twin size 6 inch bed without platform, to $2298 for the King size 9 inch bed with platform.
Green Sleep - The Vimala Sleep System
People who have purchased this organic latex mattress say it is the equivalent of sleeping in pure luxury. They provide a natural or organic latex bed encased in a cover made from organic wool and organic cotton velour.
It's a somewhat customizable mattress at the top of the price range for latex mattresses. Price for a queen size: $3,378 - $3,400
Latex mattress reviews of the following brands were also quite positive:
Plushbeds


Vivetique


Royal-Latex by Royal-Pedic - very expensive but well liked


Sawgrass


Oasis by Sleeptek


Lifekind OrganicPedic


Natura Eco-Haven
Latex Mattress Reviews - Poorly Rated Brands
Abed Latex Mattress
The biggest complaint consumers had about this brand of latex mattress was the dipping and sagging within a few days, weeks, or months. Body impressions don't bounce back quickly or at all for some people. The other complaint most often recorded was that the mattress became lumpy and the contents shifted, making the bed horribly uncomfortable. Customer service did rate highly however.

Nature's Rest
The construction of this mattress seems to lend itself to premature sagging or what is referred to as the canoe effect. Nature's Rest latex mattresses are glued together in very small pieces to create layers, which seems to be problematic when it comes to durability and comfort. Consumers reported experiencing more pain after sleeping on this mattress and that it was not comfortable overall.

Englander Latex Mattress
Consumers are not satisfied with this mattress brand due to premature sagging and dipping of the mattress. Poor customer service has also been touted as one of the reasons not to purchase this brand of latex mattress. The warranty is difficult to collect on because of stringent restrictions and guidelines.

Where Can You Find Latex Mattress Reviews?
The Internet is always a good place to search for consumer reviews on any product and that includes latex mattresses. Another good resource for customer reviews on latex mattresses is consumer-oriented magazines.
These publications are geared toward the consumer and helping them find the best deals on quality products while sharing the pros and cons of many different types of products consumers want to and need to buy.
If you are considering purchasing a latex mattress online, be sure that the company has a return policy or at least a 90 day comfort exchange policy so you can be sure that you get exactly the right firmness.
Latex Mattress Reviews - How Can You Help?
Write a review of your latex mattress! Once you decide to take the plunge and purchase a natural latex bed, take a few minutes to share what you think of your mattress. This will help other consumers who are shopping for natrual mattresses and looking for latex mattress reviews from real people who have purchased them.
Image Credit: Dobromila via Wikimedia Commons
Latex Mattress Reviews
Do you have a latex mattress? Which brand do you like? Would you recommend it to others? Please let us know what you've learned!
Latex Mattress Reviews Other Visitors Have Shared
Click below to see contributions from other visitors to this page...

Design Mobel Latex Mattress Reviews

I had a terrible experience of a toxic mattress outgassing that made me very ill for about 6 months even after its was removed. NEVER BUY A SLEEP SENSE …
In the process of buying Getha Natural Latex Mattress

Getha natural latex mattress is from Malaysia, very popular here, anyone used it. It is hyper expensive, the mattress costs around 3k USD (3,700 Sing $). …
Unhappy Sleeper - Nature's Rest Latex Mattress

We have a Nature's Rest Sanibel mattress. We paid just under $4000. for this king size latex foam mattress and box springs. It started to sag after approx. …
Home
›› Latex Mattress Reviews