Best Rated Mattresses
Who Makes the Best Mattress?
When it's time to buy a new bed, be sure to spend time learning which are the best rated mattresses. The problem may be that you may really have no idea why some mattresses rate higher than others!
What you do know, is that your current mattress isn't giving you the restful night's sleep that you've been longing for. It's time to put some serious thought into buying a new mattress.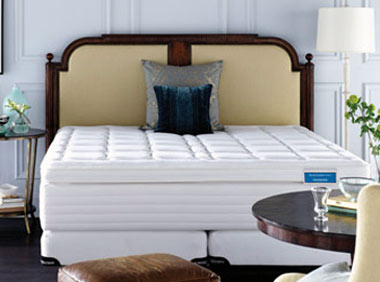 What is the Best Mattress - Define Your Needs
If you have friends who seem well rested and energetic, there's a pretty good chance that they are getting a good night's sleep.  Give them half a chance and they'll gladly bend your ear telling you about their mattress and how comfortable it is. However, don't go out and buy the same brand on this recommendation alone.
Take the time to write down exactly what's not working with your current mattress and how you feel when you wake up in the morning. The best rated mattresses come in a variety of firmnesses and materials to meet the different needs of consumers.
What's Under the Hood?
Just looking at a mattress can't tell you very much. Sure, the outside has nice stitching and it has that shiny, satin look, but what's hiding underneath? A bad mattress can torment you with subtle sagging and lumps all night.
While a great mattress can envelop you in comfort and luxury as you slip into a deep slumber, the best rated mattresses have some key features in their construction.  Take some time to learn some of the mattress construction lingo and you'll save yourself a lot of confusion.
Coils – Count and Gauge
When evaluating a mattress, check the coil count and the coil gauge. Coil count is the total number of coils in the mattress and has a direct bearing on the firmness. The minimum recommended coil count for a queen bed is 375.
Coil gauge tells you the wire thickness of each coil and influences the number of coils per inch. Heavy, or thick, coils give more support than light coils.
Intuitively it makes sense. More coils per inch equals more support and less sagging between coils. A lower coil count contributes to a lumpy mattress, because over time the area between the coils breaks down.
Coils – Pocket, Hourglass and Continuous
Just a bit more about coils, then you'll have a complete toolbox and will be well prepared to focus your search on the best rated mattresses.  Coils come in three designs: Pocket, Hourglass and Continuous.
Pocket coils, aka, "Marshall coils", are each wrapped in their own individual pocket of fabric. This gives each coil the ability to move independently of the others, which means you aren't bounced around as much when your partner rolls over during the night.
Hourglass coils have the shape their name implies, which lets them conform to your body shape.
Continuous coils are one long wire throughout the mattress in a series of S-shapes. The continuous design makes the mattress stronger, more durable and more stable. However, it does make the coil count concept fly out the window, so keep this in mind when evaluating a continuous coil mattress.
What is the Best Mattress - Top Rated Brands
What are the best rated mattresses and what makes them the best?  Keep in mind that "best" may not be the best for you, but the ratings are still a helpful way to save time and mn.
The following list is based on best rated mattress reviews as gathered by our research both on review and shopping sites, and also internet mattress forums.
Tempur-Pedic – With a completely different mattress material, Tempur-Pedic gathers some of the highest ratings by consumers. The memory foam replaces the traditional coils, and some consumers love it, putting it high on the list of best rated mattresses. Some people find the chemicals in the memory foam are not healthy to sleep on.
Buyers of Tempurpedic mattresses are typically couples, since the main selling point is the absolute lack of movement from one part of the mattress to another. The price, however, is high and a Queen can start at around $2,000 full retail price.
Sealy – Sealy's Posturepedic mattress is very popular and uses the traditional coil design. There is a "memory foam" and "latex" option which adds an extra layer of padding that acts a bit like a foam mattress. Available coil counts for queen size mattresses are 736 and 782.  Sealy Posturepedic uses a single coil innerspring and Queen mattresses start in the $500 retail range.
Simmons – Simmons Beautyrest is manufactured using pocket coil technology. Coil counts start at 800 and up. Simmons also offers the addition of a variety of foam add-ons which provide comfort and support. Price range for Simmons Queen size is around the $800 price range.
Kingsdown -  Kingsdown rates high on comfort with consumers. It uses a coil-on-coil, or continuous, design with a typical coil count of 800. Kingsdown mattresses are known for giving exceptional body support and elimination of pressure points. Prices for a Queen start retail around $1500.
Serta - The Perfect Sleeper gets consumer praise for its support and durability. Those who rate back pain as their number one complaint often prefer this brand.  Serta uses a continuous coil design and makes a Queen with a 523 coil count. Prices range retail around $300.
Stearns & Foster – This brand actually falls under the Sealy brand and is advertised as one of their luxury mattresses.  Stearn & Foster uses individually wrapped coils, aka pocket coils, and touts its "edge system" which extends the mattress comfort to the entire mattress. A Queen mattress with a coil count of 504 from heavy coil wire makes it comfortable and durable. A retail Queen mattress price is in the $1,900 range.
Who Makes the Best Mattress - Make a List
As you can see, there is much to consider when looking for the best rated mattresses. It's always a good idea to start a list of the features you're looking for.  Never go only on what you read, but get out there and do some "test sleeping".
Try out the brands you're interested in by spending 10 to 15 minutes laying on each mattress. Salespersons will encourage you to do so and there's no need to feel embarrassed or awkward.
Be sure to roll around, stretch and close your eyes to get the full experience. Mark your list with your impressions and use it to help with your final choice. I hope this is helpful to you in finding exactly the right mattress for a great night's sleep!
Home
›› Best Rated Mattresses