What Is the Best Mattress?
How to Choose the Best Mattress for Your Needs
What is the best mattress you can buy to provide a great night sleep and also fit your budget and specific needs? Inform yourself about the benefits and drawbacks of today's mattress choices.
Whether you are looking for pain relief, comfort, convenience, or affordability, your optimal mattress awaits.

Contents
Introduction
Everyone knows that a good night's sleep is essential, but what is the best mattress to buy that will guarantee you wake up feeling rested and refreshed?
With over 800 mattress brands available in the U.S. alone, shopping for a new bed can be completely confusing and overwhelming. Manufacturers make promises, dealers offer incentives, and additional features add to product appeal, but in the end, how do you know that you are getting the best mattress for your money?
After all, despite what trained salespeople say, you are the one that has to sleep on it every night. A great night's sleep is important for both your physical and psychological health.
If you don't sleep well, you don't feel well, and no one wants to crawl out of bed to face a new day feeling achy, stiff, irritable, or most frustrating of all, still tired.
How to Find the Best Mattress
There are so many choices available in style, type, and price range that making a decision can be difficult, so make yourself a list of what you are looking for in a mattress.
What is important to you? Do you want to eliminate back pain? Are allergies a problem? Does your spouse keep you awake with constant tossing and turning? By knowing what you want, you can narrow down your search.
Remember, mattress preference will vary depending on the individual, and what is comfortable for one may not be for another, so don't be persuaded by pushy salespeople or a creative marketing strategy. Make sure your purchase meets all your requirements.
When deciding on the best mattress, it is important to do some research. Try different brands and styles to find the one that is best for you. Check out customer reviews to learn the benefits and drawbacks of each type of mattress as well as the warranties offered and the ease of customer service
A little research can save you a lot of regret and disappointment, especially when you consider the fact that a new mattress can be a costly investment.
And speaking of cost, remember to look for sales! Most people only buy a few mattresses in their lifetime and a good night's rest is invaluable, so this is not the time to be frugal. However, costs can vary depending on where you make your purchase, and prices are almost always negotiable.
Sellers will try to appeal to your emotions – and tired people are especially vulnerable – so make sure you decide on a budget and stick to it. If you have done your research, you should know what your dream mattress will cost and be able to get the best quality possible for your money.
Tips for Buying the Best Mattress
So, you know what you are looking for, you have done your research, and you have set a budget. Now, it is time to actually go out and make your purchase. However,this is not always as easy as it sounds!
Being prepared ahead of time with a little knowledge is helpful, but it must be combined with a few tips that will ensure you make the best purchase for your needs.
Shop in the evening: Most people usually feel their best in the morning so you might not get an accurate idea of what it will actually be like to sleep in a particular bed. What feels good in the morning may not be quite as wonderful by evening when all the fatigue and weariness of a long day has taken its toll. Shopping for a mattress when you feel like you could lie down and go to sleep is the ideal time to make the best decision.


Try the mattress in the store: You may feel uncomfortable doing this, especially if there are several other customers in the store, but it really is the only way you will be able to get an accurate idea of whether or not the mattress meets your needs.
Lie in several positions for at least 10 minutes each so you get a good feel for comfort. After all, you don't want to be tossing and turning all night, so you want to make sure that you can remain in all your favorite sleeping positions for extended periods of time without getting stiff or uncomfortable.
If you have a spouse or partner, it is important that you shop for a new mattress together so you can feel how it reacts with two people on it, especially if one of you is a restless sleeper or motion sensitive.
Consider spine alignment: A good mattress should cradle your body and keep your spine in proper alignment. If you don't want to wake up with aches and pains, it is vital that you choose a mattress that gives you the support your body needs. The mattress should not be so soft that your shoulders or hips sink into it, or too firm that that the padding does not conform to provide proper support.


Beware of marketing ploys: Remember, a manufacturers ultimate goal is to sell their products, so they will do whatever needed to appeal to your emotions and convince you that their mattress is the perfect choice. Unfortunately, some claims are simply untrue, so never be persuaded by a good advertising campaign. Always try out the mattress first because only you know what is best for you.
What is the Best Mattress for Back or Joint Pain?
Are you tossing and turning all night because of chronic pain in your back or joints? Do you find it hard to get comfortable or feel like your current mattress isn't giving you enough support? Or, do you wake up in the morning feeling like your bed has actually increased your pain rather than relieved it?
Chiropractors and doctors do not always agree on which type of mattress is best for chronic pain, so choosing the right one is really a personal preference. The truth is, there are so many sources of back and joint pain that the solution can be as varied as the cause. Sleeping position can also make a huge difference.
Those with spinal stenosis sleep best in a fetal position, while those suffering from degenerative disk disease usually prefer a softer mattress or topper so they can place pillows under their hips without compromising proper alignment.
Some people say that their back conditions respond better when they sleep on their side while others need a mattress with adjustable firmness because their needs may vary depending on daily activity.
Despite varied needs, most back pain sufferers prefer a medium-firm mattress that cradles the body while also providing exceptional support. When pressure points are supported, your muscles won't be straining so they can relax rather than having to work to keep your spine aligned. This not only gives you a restful, relaxing sleep, but can actually lesson or even eliminate back and joint pain.
Memory Foam Mattress:
These mattresses are a great choice to help relieve back and joint pain because they conform to every inch of your body and provide excellent spine support. Made from a type of polyurethane, the material is designed to mold its shape to the human form, giving you a better night's sleep. It is important to note that there is wide range of quality available as well as a lot of imitations that appear like the real thing but will not give you any of the claimed benefits.
Benefits of memory foam mattresses: Not only do these mattresses offer great support but they are also available in every size imaginable, even for cribs and trailers, and can be custom made to fit all your needs. And, as an added bonus, you can even purchase memory foam pillows that complement your sleep system and add extra support. Prices can vary but begin at a fairly reasonable level, starting as low as $150. Remember, though, that cheaper is not always the way to go. Anything less than $150 usually means that the product is not likely real memory foam. A good quality queen size mattress can be purchased for around $700, although much higher priced ones are also available.
Drawbacks of memory foam mattresses: Since these mattresses retain body heat, some customers complain that they become too warm or sweaty throughout the night. Also, due to odorous off-gassing, memory foam mattresses are not the best choice for people with chemical or fragrance sensitivities. As previously mentioned, there are a lot of cheap imitations, so you really have to know the product to ensure that you are getting the real thing.
Latex Foam Mattresses: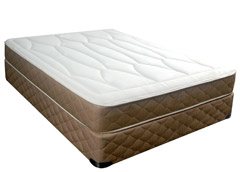 These mattresses are relatively new, so there is not as much information available. However, most customers report that they are very happy with their purchase and appreciate the fact that a good environmentally friendly product is now on the market.
Benefits of latex foam mattresses: Aside from being made from a natural, renewable source that can be recycled, these mattresses offer many benefits to those suffering from chronic back or joint pain.
They provide excellent support: The latex foam promotes good spine alignment and will conform to your body without that sinking feeling. Even though it is dense enough to be firm and supportive, it is still very comfortable, and firmness can be adjusted by varying layers, giving you the flexibility to change your preferences and create an amazing sleep experience.


Temperature control: Latex foam responds to warmer and colder temperatures of both the air and your body so that you are less likely to experience the heat build up and sweating often associated with memory foam mattresses.


They offer isolation of movement: Since they are constructed from a dense material, latex foam mattresses prevent the ripple effect of motion, meaning you will not be disturbed when your spouse moves.


Improve circulation: Since your body is being properly supported throughout the night, circulation is increased, which not only offers many health benefits, but also ensures that you won't wake up with tingling or numb limbs.
Drawbacks of latex foam mattresses: Although the dense material provides many benefits, it also makes these mattresses very heavy and difficult to flip or move. Since flipping is often required to combat sagging, this may be an issue to consider. Latex foam mattresses are also not a viable option for those suffering from latex allergies, and durability may be a factor if the quality of latex used is sub-standard. Only the good quality products are recommended; however, these begin at around $2000. Read our latex mattress reviews for more information.
What is the Best Mattress For College Students or Space Saving?
Whether you are going away to college, renting your first apartment, furnishing a guest bedroom, or looking for an option to accommodate overnight visitors or temporary sleeping situations, finding the perfect is no longer a difficult task.

Futons:
The futon has come a long way since its college days, and has now become a great, and stylish, option for those looking for an inexpensive or space saving solution. Coming in three folding styles – bi-fold, wall-hugger, and tri-fold – they are able to serve a practical purpose while also making a bold decorating statement.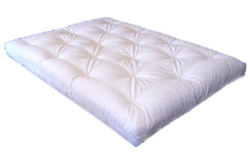 Vary the color of the futon slip cover or choose a wood or metal frame that fits your style, and you now have a comfortable bed that complements any décor. Futons mattresses are available in the popular all cotton option or come in a variety of blends including cotton/polyester, cotton/foam, or cotton/wool.
If you are looking for something that more closely resembles a traditional bed, try the innerspring futon mattress, or if health and allergies are a concern, you can enjoy the benefits of an organic futon.
Benefits of a futon mattress: Aside from the fact that these beds are multi-purpose and can be created to fit your own personal style and preference, they also offer many other benefits that make them a great choice for almost any situation.
They are convenient and easy to use.


They are customizable. You can choose the frame and cover to match your décor, and if you redecorate, simply change the slip cover and it will be as if you have a whole new piece of furniture.


They are simple to move from room to room so you can easily relocate them or move them out of the way if you need the extra space.


They are very comfortable – as both a couch and a bed.


They are made of high quality and durable materials.


They are affordable. Futons are less expensive than sleeper sofas or traditional mattresses, with prices beginning as low as $100 and ranging to $325. Organic futon mattresses are more costly, with a purchase price of about $800-$900.
Drawbacks of Futon mattresses: Some customers report that these mattresses are either too soft of too firm for sleeping and are not always the most comfortable for sitting due to the angle of the folded mattress. Make sure that your futon is at least 6 inches thick and try various styles until you find one that has the feel you are looking for. Often a lack of comfort is the choice of mattress type, not the futon styling. Some types of futon mattresses also tend to sag or do not stand up to prolonged use. Again, you get what you pay for so do your homework and purchase a brand that has good reviews.
Air Mattresses: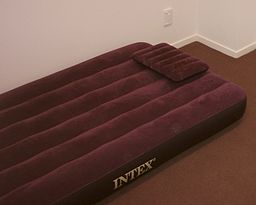 Air mattresses are not just for camping anymore. In fact, they are becoming a popular choice for students and have also earned credibility as a viable space saving option. Also called 'inflatable beds', these mattresses have seen great improvements in comfort, durability, and portability, making them ideal for dorm rooms, overnight guests, temporary sleeping situations, or camping and traveling.
Benefits of air mattresses: There is a wide range in both selection and price, but good quality air mattresses will provide excellent support, will not sag, and can even relieve back pain. They inflate and deflate easily and quickly so you can pull them out at bedtime and then store them out of the way when not in use. Also, with new improvements, air mattress companies are now able to offer options that accommodate both heavier and taller people.
Drawbacks of air mattresses: Leaking issues are the biggest customer complaint, with many people saying that the mattresses lose air throughout the night, compromising comfort and support. And, remember to test the weight of the mattress before you purchase, especially if portability is a factor, as some are significantly heavier than others. This may not matter if you are using the air mattress for a guest bedroom, but could make a big difference if you are planning a backpacking trip or a cycling tour.
What is the Best Mattress For People With Allergies?
For allergy sufferers, the choice of mattress can mean the difference between a good night's sleep or waking in the morning with red, puffy eyes, stuffy nose, itchy rash, or headache. Are you afraid to go to bed because sleeping actually makes you feel worse? Well, there are options available that will give you the sleep you have always dreamed of without the irritating side effects.

Natural or Organic Latex Foam Mattress:
Natural or organic mattresses are an environmentally friendly option that can help reduce or eliminate allergy flare-ups. However, if allergies are an issue, it is important for you to understand the difference between a regular latex mattress and one that can be considered natural or organic.
Synthetic latex begins with natural latex, but then a variety of chemicals are added to create what manufacturers believe is a more durable and denser final product. Unfortunately, these chemicals can leave behind a residual odor that can cause allergic reactions.
Natural latex mattresses consist of 90-95% all natural materials. A few chemicals are used, but only those absolutely necessary to change the liquid latex into a solid form. Most of these chemicals are washed away following the processing stage so any chemical residue is removed.
However, even though the mattress is virtually chemical free and made from natural latex, it is still not necessarily considered to be organic. A natural latex mattress can only be labeled 'organic' if no sand fillers were used in the design, if no synthetic materials were used in the mattress cover or topper, and if no flame retardant chemicals were applied to the mattress.
Wool is a natural flame retardant, so using wool covers will provide you with the same protections without risking allergic reactions. Not all latex mattresses are organic – even the all natural ones – so if this is important to you, make sure you look at the additional components.
The term 'natural' or 'all natural' is often used as a marketing ploy, but does not necessarily mean healthier, better quality, or organic.
Benefits of natural or organic latex foam mattresses: While allergy sufferers will appreciate these mattresses, the long list of benefits is appealing to everyone. It is important to note that this is a fairly new option so customer reviews are not as readily available. In this case, you must be more diligent with your research and definitely "try before you buy".
There is no chemical off-gassing or residual odors seeping into your body or contaminating the air you are breathing.


The dense foam prevents dust mites and other allergens from entering the mattress so you will not have to deal with dust mite infestations, mold, or bacteria.


Latex foam breathes to allow good air flow so you won't experience the heat build up typical in other types of mattresses. You will keep warm in the winter and cool in the summer, and this comfort is important to a good night's rest.


These mattresses will not hold body odors.


They are hypoallergenic.


They are a green or sustainable option, being made with all natural or organic materials and containing no harsh or dangerous chemicals that may cause allergic reactions.


They offer durability, elasticity, and comfort so you won't have to compromise good spinal alignment for allergy relief.
Drawbacks of natural or organic latex mattresses: Although these mattresses offer amazing benefits, they are also very costly. However, most owners claim that these environmentally friendly options are definitely worth the money since they are extremely comfortable and really do reduce or eliminate allergy symptoms.
Prices begin at about $2000, but a good quality, organic mattress can cost as much as $3500. Also, these mattresses are heavier so they require a supportive foundation with slats no more than 2 inches apart.
Keep this in mind, as you may need to purchase a special frame or make structural adjustments to your current one to accommodate this need. Also, those with latex allergies cannot choose this option, so a memory foam mattress may be a better solution to their allergy issues.
What is the Best Mattress For Couples?
Many couples have different preferences so it is difficult to find a mattress that will suit both of you, especially if one suffers from back pain or is a restless sleeper. Do you keep your partner awake with your tossing and turning? Do you feel like finding the perfect mattress is a game of compromise – taking what both of you like and meeting in the middle? Well, there are actually options out there that will give you both what you want without having to resort to separate beds.

Innerspring Mattresses:
Innerspring mattresses have been around for a long time and offer the most variety in the industry. Their proven track record, together with reputable brand names, makes this type and style one of the best choices available. The innovative pocket coil system, consisting of individually wrapped coils, buffers movement so you won't be disturbed every time your partner changes sleeping positions. These mattresses are also reasonably prices, with a good quality queen size beginning at about $800.

Air Bed Sleep System:
Air, rather than foam, water, or springs, provides the primary support for these mattresses. Some styles can be very simplistic, consisting of a single chamber and air pump, while others can be much more complex and include many additional features such as remotes or memory foam layers.
Prices may reflect the complexity, but it is important to realize that some of these 'extras' do not necessarily translate into better quality or comfort. So, ask yourself if having a remote controlled bed is worth the cost before you are taken in by creative marketing schemes or unnecessary features.
Benefits of air bed sleep system: These mattresses are very versatile and offer a variety of benefits, especially for couples.
They are adjustable. This is perhaps their best feature since individual air chambers allow couples to adjust each side of the bed to their own preference. Firmness can be increased or decreased by simply allowing air in or out of the mattress.


Since air is the primary support source, these mattresses usually have increased longevity and durability.


They are easy to repair, and when problems arise, parts can be replaced rather than having to buy a whole new mattress.


There is no need to turn or flip the mattress.


They are lightweight and easier to move than traditional mattresses.
Drawbacks of air bed sleep systems: Some customers report that you cannot sit on the side of the bed since the edge of the mattress will not support weight, and that trenches can often develop between air chambers. Also, since these mattresses have functioning parts such as chambers, valves, and pumps, there is a certain amount of maintenance required and an increased chance of something going wrong.
Some people also find that the air pump can be noisy. Perhaps the biggest drawback to these mattresses is the cost. While a simple system can begin as reasonable as $800, a good quality or more complex air bed sleep system can be very expensive.
With so many mattresses to choose from, it is more possible than ever to find the perfect one for your needs and preferences. Whether you are looking for pain relief, comfort, convenience, or affordability, the best mattress for you really does exist. So, do your research, shop around, and prepare to enjoy the sleep experience you have always wanted.
Home
›› What Is The Best Mattress