Pillow Top Mattress Pads
Pillow top mattress pads provide a protective layer for your mattress while also providing a soft plush layer of comfort that helps make any ho-hum mattress feel like new again.
These toppers or pads can be one-fourth inch thick or as much as two and a half inches thick, which gives you the freedom to choose the style and comfort levels you prefer.
Mattresses come in many sizes, comfort levels, materials, and price ranges and mattress toppers are no different in that regard. There are several types from which to choose!
Types of Mattress Pads
Pillow top mattress pads are most often referred to as mattress toppers. They're essentially a top layer that can be added to your mattress as long as it's in decent condition without any significant sagging in any part of the mattress.
Toppers are an inexpensive way to add a plush feeling of support and comfort to any style of mattress.
Wool Toppers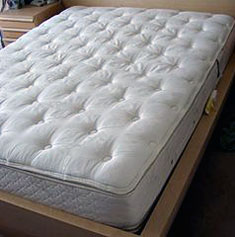 These wool toppers aren't anything like the scratchy, itchy wool blankets you may remember as a child! Wool mattress pads are made from wool blends from a variety of sources including alpaca wool and lamb's wool.
You can also find wool toppers that combine the great qualities of wool with synthetic materials. These types of toppers provide more support than 100% wool toppers.
All of them are amazingly soft and feel very cozy and inviting.
Advantages
Naturally resistant to mold, allergens, and dust mites


Naturally regulates body temperature - wick's away moisture


Wool breathes easily


Hypoallergenic


Coziness and plushness added


Durable
Disadvantages Wool Toppers
Wool tends to flatten out with use and as a result, loses some of its supportive value


Single wool material toppers tend to flatten quicker than blends


Designed mostly for comfort rather than support


Wool toppers can shed


Steam or dry clean
Price Range: $130 - $700
Egg Crate Pillow Top Mattress Pads
Egg crate toppers are the go-to mattress pads for anyone who has experienced back pain or other chronic medical issues. This uniquely shaped pad can be used with the bumps face down into the mattress or facing up so you'll be lying on them directly.
People who have difficulty sleeping due to painful pressure points will appreciate the comfort and support of an egg crate topper.
Advantages
Least expensive type


Wonderful for adding support to your new or existing mattress


Couples can add one to their side of the bed only if they desire - trim to size


Excellent air flow - allows body to breathe
Disadvantages
Many made from polyurethane and sprayed with fire retardant chemicals - very hard on those sensitive to chemical smells


Off-gassing in the beginning - need to air out for several days before using


Egg crates tend to slip and slide around with movement


Can sleep hot
Feather or Down Mattress Toppers
The feather or down mattress topper is designed to add cushioning or a more plush feeling to your mattress. They're made from a combination of goose or duck down and can sometimes contain feathers in addition to the down.

Advantages
Less expensive than latex foam or memory foam toppers


Durable


Helps regulate warm/cold body temperature - breathable materials


Surrounds you with plush cushioning


Extremely soft to touch


Great motion isolation


Options for hypoallergenic down toppers available


Can find down toppers with quilted sections - helps keep contents in place
Disadvantages
Can bunch up with use and requires regular shaking out to maintain uniform softness


Flatten out rather quickly


Not designed for added support - not an ideal choice for those with muscle, neck, joint, or back pain


Could cause those with feather allergies to have an attack unless covered with special allergy-free cover


Most are dry-clean only
Prices: $40 - $400
Latex Pillow Top Mattress Pads
Latex toppers contour to and cradle the shape of your body, providing support while making you feel like you're sleeping in luxury. Latex comes in all natural or synthetic forms, but all are made from rubber tree sap as the main ingredient.

Advantages
Ideal motion isolation - spouses aren't disturbed by movements


Good choice for some allergy sufferers


Supports joints, back, shoulders, and neck


Breathable material


Durable


Naturally resistant to mold, dust mites, allergens, and bacteria


Hypoallergenic


Great for side sleepers and back sleepers


Eco-friendly latex choices available


Nearly scent-free
Disadvantages
Not the same support as memory foam


Can develop indentations and experience loss of elasticity after years of use


Latex allergy sufferers can't use


Very difficult to clean and maintain
Price: $70 - $700
Memory Foam Toppers
These are typically the most popular choice when it comes to pillow top mattress pads. They're excellent for support and relieving painful pressure points. Many people opt for a memory foam topper rather than spending the money on a memory foam mattress.

Advantages
Fraction of cost compared to mattress


Extremely durable


Returns to original shape when pressure removed


Conforms to the body quickly


Great for back sleepers


Hypoallergenic options available


Cover available for pad


Available for most mattress sizes


Variable thicknesses available
Disadvantages
Highest price point of toppers


Smell is very nasty when first opened


Can feel stiff and resistant to movements in cold temperatures


Heavy to move and adjust on the mattress


Causes hot sleeping


Can't clean easily


Can break down over years of use
Price: $50 - $600
Did you know that memory foam has been linked to adverse physical reactions? Some people who have slept on memory foam develop health problems and have more difficult sleeping. Please visit our page that discusses the potential dangers of memory foam before choosing a mattress or mattress pad that contains memory foam.
Buying Tips
The first thing you need to do before shopping for a topper is to decide whether it will make a significant difference for you on your existing mattress. If your mattress is sagging a lot or has developed trenches or deep indentations, a topper won't help. But if your mattress is in good condition, a topper will work well.
Try out as many as you can in an actual store!
Make note of the density and thickness of the toppers you like the best.
Allergy sufferers need to be careful about the materials used in the topper they choose. Be sure to find out what materials have been used to make the topper you are interested in buying before actually making the purchase. There are some toppers out there that are marketed as healthy and safe, when in fact they have been manufactured using a good amount of "good" fabrics, but also a percentage of chemically derived fabrics. Those are the ones that could cause an adverse physical reaction and should be avoided.
Read customer reviews of the different styles of toppers.
Keep in mind that you can save money on a mattress and then purchase one of many pillow top mattress pads to enhance the comfort and/or support of your new mattress! Plus, you might decide later to switch out the topper and that's easily and inexpensive to do.